The digitalization of every business and the importance of having an online presence have made every industry very competitive. Creating an online presence and getting more customers has become difficult for a local street barber.
Nowadays, all businesses are managed using the software. As a salon owner, it's important for you to stay updated with the latest changes and use technology to improve your business performance. Here we have created a simple guide for you to understand salon software and how to use it to improve your business.
What is salon software?
Salon software, a digital application that is developed to help salon owners and independent styling professionals manage their day-to-day operations and grow their business by keeping client and business records and streamlines, providing secure customer data storage and the list continues.
What is Lokaci?
Lokaci is a real-time salon booking appointment platform for customers. Along with that, it is a platform serving the needs of salons and helping them sustain and grow their business. Lokaci acts as a mediator between salons and customers. So it is beneficial for both parties.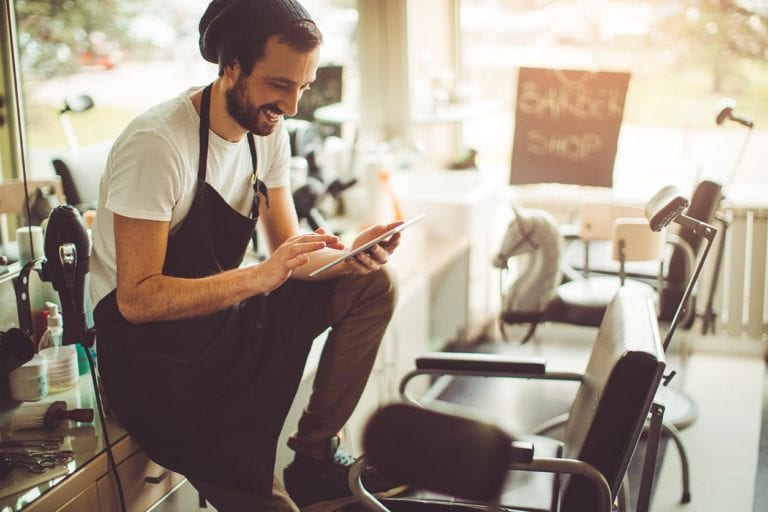 Why is Salon Software important for Salon business?
Why do hair salons business owners need salon management software? Well well well! There are numerous advantages of this one of its kind technology, lets have look at some:
| | |
| --- | --- |
| Benefits of a Salon Software to salon partners | How does Lokaci help achieve them? What are the features of Lokaci software? |
| Easy to use and understand | Lokaci app provides a plethora of services from managing inventory to purchasing more. Its features allow users to add various services, combo packs, and offers at a single click. The vendor can change the language at their convenience. The app is very easy to access, available on phone providing all facilities at a single click. |
| Ease in client booking and scheduling | The software has two parts to it: the Customer app and the Vendor app, both of which are connected to each other. The Vendor app allows vendors the orders placed with them and the customer app allows customers to see and avail all the benefits given by a particular salon. So, the orders can be booked and scheduled from anywhere and anytime. |
| Helps manage client databases. | The software maintains data of all the activity on it- orders, bookings, payments, etc. An order placed or executed, will be recorded along with the information of the client. Therefore, maintaining a database of clients is very easy. This data can be further used to launch schemes and offers to clients, based on their preferences. |
| Automation confirmation and reminders. | Lokaci app provides messages confirming client orders and reminders. |
| Makes Checkout and Payments Seamless | The app provides ease in making and collecting payments. It provides both online and offline options. |
| Helps in managing Your Inventory | The software maintains a record of the inventory, thus allowing for transparent and clear management of the inventory. Not only that but also it has options for vendors to buy more inventory of cosmetic products and sanitized kits. |
| Digital marketing support | The software is designed by understanding the problems that vendors face often- one such hurdle is marketing and developing reach. Lokaci provides facilities such as Mass Text Message Marketing, Gift cards, student offers, and many more. Lokaci helps in building a free website for salon businesses that rank in top searches of Google. |
| Increased efficiency | The software reduces pressure off the shoulders by automating tasks and maintaining various day-to-day work in the salon management, enabling you to have more time to focus your efforts on other areas. From simplifying payments to optimizing your appointment scheduling, salon operating systems can help you make more of your business time, every day, saving precious minutes and hours that you would usually spend managing invoices, checking your calendar, and so on. |
| Staff management | The software keeps a record of the staff at your salon, allowing you to know their work contribution. The app makes staff management much easier by providing the option to hire more employees through it. Thus allowing management of existing workers and building an efficient workforce with Lokaci. |
| Business growth/ Business expansion | The software dashboard shows the weekly earnings, current bookings, booking history, offers provided, etc for the Salon to make a better decision in terms of taking steps ahead for business growth. The software also keeps its salon partners updated with the latest benefits offered to them by Lokaci and thus allows them to make the best of all. |
FAQs
Q1: How much does a Salon software cost?
Ans: The cost of a Salon software depends upon various indicators such as the services provided, etc. The prices range from free to INR 1000 per month and up. Typically every salon software service provider offers a wide range of prices, which is based on the number of users logging in and the different features that you want to avail for e.g. hair, nail, or skincare. The same software may be priced differently for people with different needs. A solo stylist, a three-person staff, and a multi-location salon have different needs so they would be charged differently.
Q2: Is Lokaci a free Salon Software?
Ans: Yes, Lokaci is completely free of cost for both customers and vendors. Check out more about us HERE
Q3: How do I choose a Salon Software?
Ans: Know your goals, what do you want to have assistance in. Look into User-friendliness, Accessibility, Marketing & Promotions, Value For Money, and Scalability. Do a proper cost analysis of the Salon software and act accordingly.
Q3: What are the benefits of using Lokaci?
Ans: Lokaci offers a wide range of services and is easy to use and understand in the sense that it allows vendors to change the language at their convenience. The vendor can directly send payment links to customers. Lokaci provides a free website for salon businesses that rank in top searches of Google. It provides the facility to hire staff and manage them efficiently. And on top of all, it is free software. These are some of the benefits of using Lokaci.
Q4: Which is the best salon software in India?
Ans: Lokaci is the best salon software in India with its numerous benefits over its competitors and it offers a wide range of services depending on the needs of the salon business from helping in marketing to hiring staff to business growth for free. Visit Lokaci for more information.
Q5: How to manage a salon?
Ans: Starting a salon is the first step but making it survive and grow is another milestone. There is no doubt in the fact that managing a salon software is as complicated as trying to manage a client's hair with scissors in one hand, comb in second, and spray in between. Managing a salon requires the assistance of Salon software in the management process and business growth and development. This software provides a variety of tailor-made services to suit salon businesses with specific needs. Lokaci is one such salon software.
Q6: How can I make my salon business successful?
Ans: There are various steps that need to be taken care of while working towards making a business successful:
Analysing business performance on regular intervals. Controlling the deviations from the goals, finding the possible reasons and solving them.
Training sessions for staff and keeping the staff updated with the latest trends in the business and thus maintaining a competitive edge in the market.
Having a Salon software. It is not necessary to use salon software to make a salon business successful but a salon software definitely helps in faster growth because its core work lies in growing the salon business itself. A salon business can help in all the above stated steps with minimal stress on the salon so that the salon can focus on providing best services to its customers.