You would want to look gorgeous as a bride on your wedding day and why not! After all, it's your big day. Once you have the dress finalized and jewelry, you need to decide on makeup. And for that, you need to be sure that the makeup artist you have hired is actually the one. But the question arises is how to find such experts? What are the criteria for them?
Well well well! Relax! Read the following to know how to start your makeup artist search.
1. Know your style
You know what suits you the best and have some style in mind that you want on your wedding day. So begin your search by checking artists according to your desired style. We provide you a list of some of the jargon terms in makeup so you can convey your style to the artist easily:
Natural makeup – It focuses on key areas skin, eyes, and lips and uses fewer makeup products. It's is no makeup, makeup looks and appears as if you're not wearing any makeup.
Day makeup – It is created by keeping in mind the natural lighting for the day event.
Airbrush makeup – It is a professional technique that involves spraying foundation directly onto the skin to get full coverage without a cakey look.
Glam makeup – This glamorous look is the natural look on foundation, and then with a highlight on the eyes, lips, liner and long lashes.
Colour makeup – The makeup is soft and the colours seem to move seamlessly from one into another without any hard borders.
HD makeup – HD Makeup is done the normal way with brushes and sponges. It is done using the high-end HD products designed to scatter light on the skin. It gives a very natural, non-cakey and a soft flawless look.
And lock in the broad look before meeting the makeup artist. It's important to have references to ensure clarity.
2. Know your budget
Before moving ahead, one you know what your style is the next step should be to see how many can be accommodated in your budget. How much you are willing to pay is extremely necessary to know and accordingly you will start searching and reaching out to artists.
Once the finalization of you wedding dress, getting to know your style and budget is done, you can start your probe for MUA.
1. Check makeup artist's portfolio
Start checking the past works and profiles of the makeup artists which you have shortlisted. This will help you know their style and method of work. Stalk them on Facebook, Instagram accounts, their websites, or any other social media. Look out for reviews and recommendations of their past work and ask for a trial makeup session with the artist to know their makeup style and your taste better.
2. Experience matters
If you are somebody who doesn't want to try out new styles and have a very defined style in your mind, then we suggest you go to an experienced makeup artist instead of a naive one who is more experimenting with their style. Experienced makeup artists are not only good with their work but you will also get polished professionalism as well.
3. Finally contact MUAs within your budget.

Now that, you have enough information about your style, budget and you have seen various MUA profiles, it is time to sort the information according to your budget. Once you have made the list, it is finally time to start contacting the artists and taking trials with them so that there is no hassle on your Wedding Day.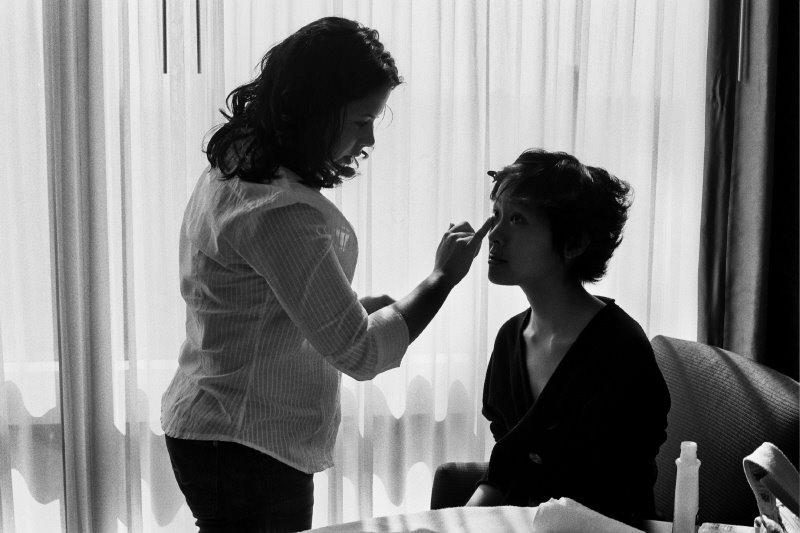 These tips will help you in finding the best makeup artist near you for your D-Day. We are listing few more points which you should keep in mind when you are reaching out to the MUAs.
1. Communicate any concerns around your skin
It's always best to provide the makeup artist with all relevant information in advance to avoid any last-minute damage issues. Convey clearly to the makeup artist about your skin type, undertone, or any allergy that you have.
2. Booking in advance
Plan things beforehand. Several makeup artists take bookings/orders well in advance. And always ensure that you have communicated to them the following things as well
i) Advance payment and Booking amount
ii) Cancellation charges
iii) Any miscellaneous changes
Have realistic expectations when you are searching for a wedding makeup artist as well as while judging their work. Don't blindly follow the makeup that you found very nice on some magazine model. There goes a lot of editing work in magazines and you are not getting ready for a magazine shoot. You need a makeup artist to help you set up for your real wedding day, where there is no editing and you meet your loved ones and spend time with them. Ensure that there's no communication gap. Trust them and stay happy:) Imperfections are perfectly fine!
Share your wedding dress photos with your MUA. This will help them to come up with a best look for you.
How to find the best makeup artists near me?
Lokaci is a real-time salon booking appointment platform for customers. Along with that, it is a platform serving the needs of salons and helping them sustain and grow their business. Lokaci acts as a mediator between salons and customers. So it is beneficial for both parties. It is India's best salon software which is free.
How does Lokaci help in finding the best Makeup Artists near me?
Finding the best makeup artists near your vicinity can be really tough when you don't have somebody to tell and guide you to the best MUAs, but don't worry Lokaci has got you covered. The Lokaci app not only provides you with the best makeup artists near you but also provides information about best parlors and salons near you to avail several other services. So, let's get into the process
Login: The moment you open the Lokaci app, a login window appears in front of you. Fill the credentials and go forward.
The next window is the Home page of the Lokaci App which shows all salon options for men, women, students, deals of the day and several combo services.
You can also see trending stylists:
To find the best trending stylist, click on trending.
This page shows all the trending and best stylists.
Search for the luxury salon you want to go to.
See their services, rating, reviews, distance. And booking your slot with them.
You are all set to reach the salon on your ease and your preferred time slot. It is that easy!
FAQs
How do I find the right makeup artist?
Follow the steps given above from finalizing your wedding dress, knowing your style, financing it and contacting makeup artists in your budgets. If you have more specific question, please comment. We will be happy to take them up.
How do I choose my bridal makeup?
The decision of choosing a bridal makeup look will highly depend on your wedding dress, your styles and the budget you have. Make sure to do a thorough research on these and your MUA will be able to provide you with best makeup looks that you like.
Which bridal makeup is best?
HD Makeup is a great choice for bridal makeup because the bride is under the constant glare of the cameras. Airbrush makeup is mostly suggested for oily skin whereas HD Makeup is suitable for all skin types. Don't forget to get in a conversation about the best makeup with your MUA.