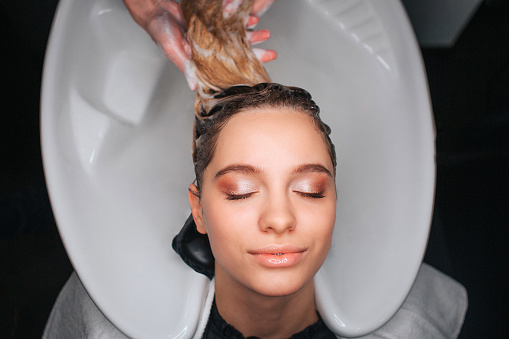 A keratin hair treatment also called a Brazilian blowout or Brazilian keratin treatment is a type of protein that is present in our hair, skin, and nails.
It is also found in our internal organs and glands. It is a protective protein. And therefore keratin acts as external protection and internal structural protein protecting our hair and keeping them healthy.
Due to changes in your lifestyle, exposure to external factors like the sun, pollution, or chemicals, the proportion of keratin present reduces over time. This leads to dryness and dullness of hair.
What does a Keratin hair treatment do? 
During a keratin hair treatment, keratin is added externally into the porous spots in hair giving a hair smoothing treatment and making it look shiny and frizz-free. A keratin treatment is basically rejuvenating the hair by filling back the lost protein into the strands.
Benefits of Keratin Treatment
The range of benefits of keratin treatment depends on the natural health of your hair, its thickness, and the kind of keratin treatment done. It doesn't straighten your hair or add volume to it but it is like a super-strong deep conditioner for hair. A keratin treatment makes your hair: 
-More manageable, 
-Smooth, 
-Fuss-free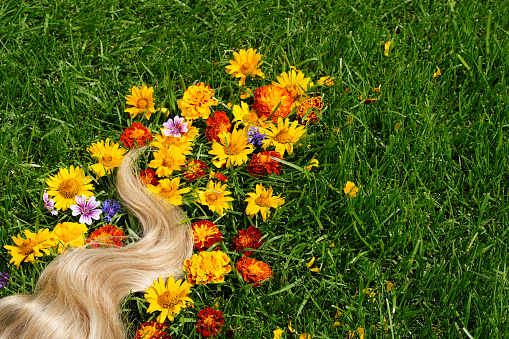 How is Keratin Treatment done?
1. Pre-treatment
Before heading to the salon, check if a keratin treatment is suitable for your hair. Just because your favorite celeb loves it, doesn't guarantee it's going to suit you too.
Leading hair stylists suggest people with moderately straight hair avoid the keratin treatment altogether. It is best suited to curly or frizzy hair textures. Think before you act!
Read about the treatment and do your due diligence research beforehand.
2. The Procedure
The treatment lasts for approximately three hours and consists of these steps.
– Hair wash (Shampoo but not conditioner)
– Blow-dry for removing any kind of moisture
– Applying Keratin solution
– Leaving hair to set
– Second round of blow-dry
– Now it turns to flat-iron to seal the solution
– And there you have your smooth, shiny, and fuss-free hair!
3. Post-treatment
Although the hair now becomes more manageable you'll still need to take care and put in the extra effort you used to.
Opt for a sulfate-free formula for your shampoo as this does not counteract the treatment and ensures longevity as the shampoo.
How is it different from smoothening/rebonding?
The difference lies in the process and goal of both treatments. Keratin treatment adds keratin protein externally without any chemical alterations, and hair is made more manageable and shiny. Whereas smoothening and rebonding change the composition of hair and make the tresses sleeker. 
How to do Keratin Treatment at home?
You can do Keratin Treatment at home too. This can be either done by following some easy steps or using some homemade masks.

What is the cost of Keratin treatment?
Keratin treatment cost depends on various factors like length of the hair, texture, and thickness of the hair. It also depends on the quality of the product used in the keratin treatment. To provide an approximate value, it is 6,000 and up. 
How to find the best salon for Keratin treatment?
Finding the best salon near you is difficult and you certainly can't go to your neighborhood aunty/bhaiya salon because your hair is not meant for their experiments and you need a professional.
So, here we have come up with India's best online hair salon booking platform Lokaci.
You can search for the nearest salons on the Lokaci app, see their respective ratings, distances and prices. Read reviews about them and book the best salon nearest to you. Book a slot that is the most feasible for you.
Guess what! The app provides you a reminder in case you forget to keep a track of your scheduled time. The app provides heavy discounts on different occasions so make sure to avail them.
Get 100 % Cashback on your first booking with Lokaci.
FAQ
Q1: Why do people have keratin treatment? Is a keratin treatment good for your hair?
Ans: People go for keratin treatment because it makes hair more manageable, brings back the lost shine by adding the keratin protein into the hair strands. Eventually making them fuss-free and healthy. 
Q2: How long does a keratin treatment last?
Ans: It depends on several things, your hair quality, quality of your keratin treatment, post-treatment care. 2-3 months is a good approximation to state but again it depends.
Q3: Can keratin cause hair loss?
Ans: Excess keratin hair treatment can cause loss of hair because the hair has to go through the roughness of the treatment every time. The process in itself is traumatizing for the hair follicle, weakening them.
Q4: Who should avoid keratin hair treatment?
Ans: Pregnant women and people sensitive to formaldehyde or respiratory problems should avoid keratin treatments.
Q5: How to find the best salon for keratin treatment near me?
Ans: You can find the salon for keratin treatment using Lokaci. Download the Lokaci app and get 100 % Cashback on your first service.