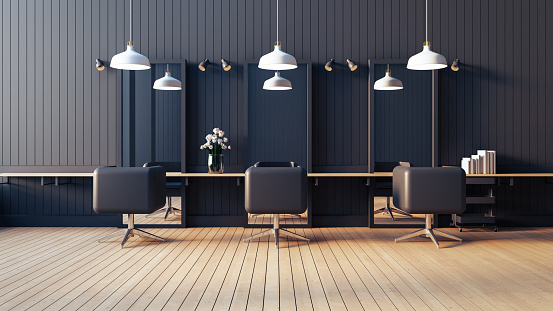 When you walk into your new salon, you want to be greeted by name. Not to mention the color and style you requested. Your stylists and staff should be able to answer your questions without referring you out and get your calls and emails returned promptly. You should be able to connect with the brands that you love and trust, without feeling like a number.
When people think of a salon, they often think of a place where hair is cut and styled. But a great salon goes far deeper than that. It's an experience. It's a place to go and feel like you're being pampered.
What is Salon Branding and Why is it necessary?
Your salon brand is your business's identity. It's what potential customers see when they look at your website, and what they remember when they look at the business cards you hand out. It's your promise to your clients: a promise of quality service, delivered by a team that's committed to making you look and feel amazing. Your salon brand is the first thing your customers see, so it needs to be a promise you can deliver on.
One of the most important parts of running a successful hair salon is branding. If you have a great stylist and great service, but no logo or branding, then no one will know where to go. This is why it is so important to invest time and money into developing your salon's brand. This not only helps you build your clientele, but it also helps you build your own personal brand as a hairstylist. The right salon brand can help customers build a relationship with the location, which can lead to increased patronage.
The Story of a Salon from Scratch
'It was a challenge. A challenge I was up for as I had the best marketing team at hand.'
Shanaya Mehra started her Salon business start-up in 2015. Initially, her neighbors, and family members came. Her only source of customers was through mouth-publicity. Slowly, after consulting some people, she took a chance on social media and created pages on Facebook, Instagram, and Google. It made it easy for people to find the salon. Her business started scaling. People from far came to get their treatments done and it was a high level of satisfaction for her.
But by the end of 2017, her growth got stagnant. Her customers kept coming but her growth stopped. The customers came in a loop, and no new change was prevalent. She consulted many people and then finally knocked on the doors of an outsourced marketing agency. They told her about the loopholes in her marketing. That social0media and mouth publicity are not the only two clauses of salon branding. You need to hold workshops and many more to get known to the public. From that point, she gave the reins of marketing to them and the rest is history!
Today, Shanaya's salon has 12 branches across India and she is one of the entrepreneurs in the lifestyle industry who has had a growth percentage of 200%. Owing to her success in her marketing team, she recently closed her speech when she got the award of the 'Best Salon Brand Creator'.
Steps to Build your Salon Branding
Here are the steps you need to keep in mind while putting up a salon brand.

Know your Audience:

The first step in creating a social media marketing strategy is to know your target audience. Are you marketing to current customers, looking to build a new audience, or trying to attract new business? This will help you determine what platforms to use, what content to create, and who to target with your ads. Most businesses start small and test different strategies, so it's safe to start with a small audience and build from there.
For your salon, you need to focus on one kind of audience. Unisex Salons have 28% lesser sales but 14% more growth. Although 'Habib' stores have had a startling growth throughout these years and now it has more than 1000 stores pan India.
Create your Target Audience Persona:
Once you know your audience, focus on your own self. Try building your persona around your target audience. One way to do that is to create a marketing campaign.
Every persona you create should have the following:
Photo
Name
Description
Problem

There's a lot to learn when you first get started creating marketing campaigns. One of the most critical things you'll need to understand is who you're marketing to. This is referred to as your "audience persona," and it's the most important part of creating a successful marketing campaign. Your audience is the group of people you're trying to reach, and understanding their behavior, background, and motivations will help you to tailor your services and deliver a better experience.

Visual Storytelling:

Now that you have created a skeleton for your brand, you have to breathe into it. A business can only sustain itself if you make it relatable to the known audience. The color, font, logo, and persona of your business must attract many.
Typography:
Typography is the design and arrangement of a type that is used to convey a message. When designed effectively, great typography can draw the reader in and capture their attention. It can also create a clean, uncluttered look that is appealing to the senses. The Typography you use will be used for your logo, font, and style.
Colors:
Palettes are the heart and soul of any design. They set the tone, shape, and style of your design, and can make or break a design. They can also be incredibly simple or incredibly complex, depending on how you use them. The palette is a grouping of colors that all work together to create the overarching look and feel of your design. The colors you use will define the actual mode of your brand.
Competition:

Before fully advancing in the market, you need to vary from the competition. Always keep the answer of, 'How is your Salon different from that of others?'. Your salon must have a unique factor that attracts people and hold your monopoly for the time. It can be a different set of new technology, a new method of treatment, anything. Choose your niche.
Always stand by your vision and mission:

Whether you're a start-up or an established brand, your mission and vision are the cornerstones of your brand identity. They're the foundation on which everything else is built. Your mission and vision statements form the basis of everything you say about your brand, including your corporate branding and marketing materials. They should be simple, clear, and delivered in an engaging way to inspire your audience and help them understand what your brand is all about.
Online reputation and Brand's tone:

Your online reputation is everything. It defines who you are to the world, and it can make or break your ability to perform everyday tasks. But the way you're currently perceived online doesn't have to be a reality forever. There are steps you can take to improve your online reputation. As Shanaya did. So can you.
Conclusion
These are the steps to forming a Salon Branding. A branding that can shatter all records. If you lack consistent growth, one of these factors is missing in your brand and thus, there is a need to work over it. Branding is the visual representation of your business. It's the design elements, colors, and copy that make your business recognizable. It's the first thing customers see and can influence their decision to do business with you or not. It's one of the most important parts of your marketing strategy, and it's something you should be working on every single day.
FAQs
Q.1 What are the essentials of establishing a salon?
Ans. In order to establish a salon, one needs to have certain resources. They can be –
-Trained employees
-Good technology
-Healthy treatments
-A catchy name and logo
-A factor that sets your salon apart.
Q.2 Does one always need a marketing agency for salon branding?
Ans. Not necessarily. You can create productive strategies yourself if you have a marketing specialist in your own staff or directors. A marketing strategy is mandatory if you want your business to scale through all platforms and target audiences. A person with good marketing skills can be outsourced or can be functional in the company itself.
Q.3 Can Salon Branding be outsourced?
Ans. Indeed. You can use outsourced branding. Sometimes indirect consultation can also be used for the fulfillment of one's satisfactory strategy and can be useful. There are many marketing agencies you can consult as salon branding doesn't actually come in the corporate structure of businesses.
Q.4 How to create an online persona?
Ans. In order to create an online persona, one needs to be aware of social media handling. In case you have no greater idea or knowledge about it, recruit a social media employee who creates accounts, makes trends, and attracts traffic to your account. This is the only way you can create an online persona.
Q.5 How to limit expense and focus on expertise?
Ans. You can outsource expertise, which will lower your in-office expense and will provide you with great results all in all.